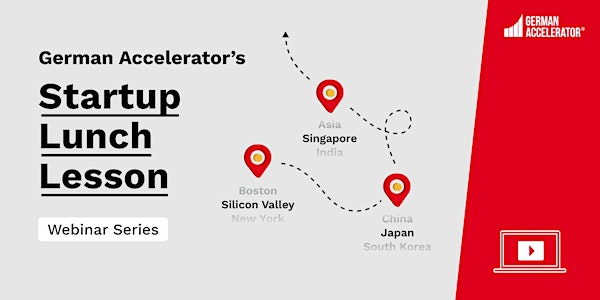 German Accelerator's webinar series for startups, founders and entrepreneurs.
Internationalization is an individual process for every company. The experts of German Accelerator and alumni of our global programs share their knowledge in 30-45 minute sessions every third Tuesday of the month to help you ask yourself the right questions.
Let's take a look at the different markets and their potential for your business..
German Accelerator empowers German startups to scale globally. We take high-potential companies on a fast-paced learning journey to understand, discover, and access the world's leading innovation hubs in the U.S. and Asia. Through highly-customized programs, mentoring from dedicated experts, as well as access to our vast network of business partners and investors, we help startups from all stages and across various industries on their way to international success. Since launching in 2012, German Accelerator has nurtured over 500 startups which have raised more than $4.9 billion in funding so far. German Accelerator is run by German Entrepreneurship GmbH and is proudly financed by the German Federal Ministry for Economic Affairs and Climate Action (BMWK). Visit www.germanaccelerator.com for more information.